Understanding the Sales & Marketing Challenge…
Sales
"I am not hitting target because Marketing do not provide enough leads"
"The leads I do get are of poor quality – they are just not sales ready"
"I am meant to be spending my time selling – not entering data into a system"
Marketing
"We're passing Sales loads of leads – what do they do with them?"
"I know it was a quality lead – we met at an event!"
"And why is our customer data spread over so many spreadsheets – all in different formats, with no segmentation?"
Sales and Marketing can work together – they just have different needs…
We looked at the problem like this… Marketing are the farmers that plant your prospecting seeds and carefully nurture them until harvest. Sales are the business bread winners, the team that brings home the bacon – the hunters who need deals on the table in order to eat. But the goals of the two teams are aligned – Marketing want nothing more than to harvest a rich crop of sales ready leads and Sales want nothing more than to close those deals. We asked ourseleves why two teams, who should be working closely together have such a disconnect. Why does it feel like Marketing is from Venus and Sales is from Mars? More importantly, how can this challenge be overcome?
Sales and Marketing – Reinvented
We bring a fresh new approach, with best-of-breed supporting tools, to tackle the problem of making Sales and Marketing work more effectively together. We ensure that Marketing has every prospect's name in one place, properly segmented. We ensure that nurture and drip campaigns are truly automated. We provide a mechanism to automatically track and score prospect engagement and automatically notify Sales when prospects are ready to buy. We provide Sales with tools to effectively manage the sales cycle. With full pipeline forecasting and management, sales automation, activity management, email integration and access to prospect and opportunity data through mobile apps, your Sales team will have all of the information needed to quickly close deals. We also ensure that Customer Services know of every engagement anyone has ever had with the customer – they know the marketing messages that have been sent, the calls that have been placed and the meetings that have been held. They can access key emails and documents, have access to the full sales history and are served intelligence on the life time value of the customer. We call this approach Revenue Performance Management (RPM).
Sugar by SugarCRM and Act-On's Marketing Automation Solutions
Sugar offers the most innovative, flexible and affordable CRM in the market and delivers the best all-around value of any CRM. By breaking down departmental silos, and giving every customer-facing employee the tools they need to be more effective every day – Sugar provides a unique value and return on investment not seen in other CRMs. Only Sugar allows organisations to build truly automated end-to-end processes that help businesses focus on what matters most: making every customer relationship extraordinary.
What is CRM?
Customer Relationship Management is a technology and system that sustains sales, marketing and customer service activities. It is designed to capture and interpret customer data, both structured and unstructured, and to sustain the management of the business side of customer related operations. CRM technology automates processes and workflows and helps organize and interpret data to support a company in engaging its customers more effectively .
Act-On is a software-as-a-service, cloud-based marketing automation solution. Its platform is purpose-built to give small and medium-sized marketing teams all the value of marketing automation – without the complexity big enterprise systems impose.
What is Marketing Automation?
Marketing automation is a technology platform that helps organisations manage marketing efforts across multiple digital channels, automate manual processes, track and score results.
Seamless Marketing and Sales Integration
The best part is that the two products – Sugar and Act-On – integrate seamlessly. Now you can ensure that your Sales and Marketing teams (not to mention your Customer Service, Ops and Finance teams) are all on the same page and focused on ensuring that every time any member of your team engages with a customer it is delivering a first class experience.
Reinventing Sales and Marketing can bring huge benefits…
You are up to nine times more likely to convert a web lead if you can follow-up within five minutes. Sugar notifies of every lead assignment.
82% of the customers you lose will go because 'you do not care about them' - ensure your team delivers excellence in every customer facing transaction,
80% of sales will involve at least five calls after the first meeting. Sales automation delivers operational effectiveness.
55% of business owners state 'ease of use' is the most important feature. Sugar's unique interface increases CRM adoption.
Well nurtured leads make 47% larger purchases - linking the marketing and sales funnels increases revenue.
30% of marketing people state that disparate data sources prevent meaningful customer insight. Sugar displays intelligence on every page.
Businesses can increase revenue by 20% just by focusing on conversion targets. Sugar helps you measure and forecast.
Sales people are up to 15% more effective when given access to Mobile CRM
Join Us
Join the 1.5 million people who are already using Sugar by SugarCRM…
Shorten sales cycles, increase conversion rates.
Segment, nurture & drive engagement.
Reduce churn, increase customer loyalty.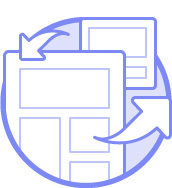 Run the numbers and work out how quickly Sugar can bring benefit to your organisation.
ROI Calculator
Use our ROI Calculator to work out how quickly Sugar can generate a return for you. Calculate Now
Get a Demo
Let us prove to you how powerful and flexible Sugar really is, request a no obligation demo now. Request Demo
Get In Touch
Contact us now to learn more about how we can help your business. Contact Us